SMX 5189 – 2-Spindle Horizontal Machining Center
This machine was designed for the machining of HGV brake calipers with a clamping system. Various work piece varieties can be machined on the same clamping device since the clamping points are identically arranged for all work piece varieties.
For complex machining the machine was equipped with a swivel bridge (A-axis), which is driven by Ø 500 mm torque-motors on both sides. Two Ø 500 mm torque-motor driven swiveling tables (B-axis) are installed on the swivel bridge. All rotary axes are equipped with hydraulic clamping units.
The two work units can travel totally independent allowing adjustment options for tool lengths and tool diameters in all three axes. This machine is also equipped with a 80-slot pick-up tool magazine. This magazine is capable of holding a number of large drill- and milling heads.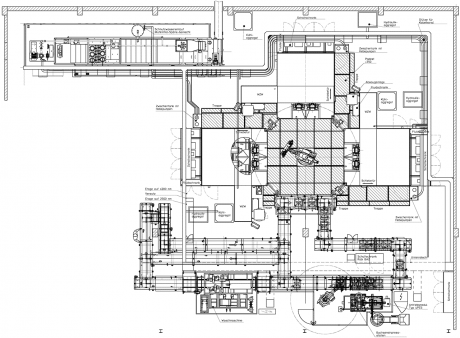 Technical Details
Traverse path
X-axes
500 mm
Y-axes (tool change)
500 (925) mm
Z-axes
500 mm
Feed rates
max. speed
40 m/min
max. acceleration
4 m/sec²
max. feed force
10000 N
Work unit
max. capacity S1 / S6
50 / 75 kW
max. torque S1 / S6
256 / 386 Nm
max. speed
7500 rpm
spindle distance
800 mm
Swivel axes
diameter A-axes / number
∅ 500 mm (1x)
diameter B-axes / number
∅ 500 mm (2x)
Tool magazine
tool slots
80
tool holder
HSK-A 100
tool changing rate
8 sec
Dimensions / Other
space assignment
6.0 x 5.2 x 4.5 m
total weight
34000 kg
floor-to-floor time
133 sec
Machine description