Industry 4.0 Solutions by ELHA
iDPS stands for an industry 4.0 system solution that enables our customers to increase the productivity of their machinery significantly. iDPS is a modular system of freely configurable applications:
All functions and interfaces can be accessed locally from any workstation or mobile device in the factory network or from the CNC user interface. They are even accessible through the internet as far as a remote connection is available. Optionally, a connection to any cloud solution is possible. On customer request, all relevant information can also be displayed via cloud applications and is available at any place and time wherever needed. Basis for the applications is a machine-installed industrial PC with a database which provides extensive analysis options.
Your benefits
Maximum machine / process transparency
Diagnostic options: process, control, drive and other machine components
Database with extensive analysis options
Applications are available on the machine and in the local factory network
Customized cloud solutions, globally available (option)
Applications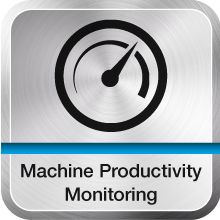 Machine Productivity Monitoring
The MPM application offers a fast and clear overview of all relevant information regarding productivity in individually configurable diagrams (e.g. time bar, pie chart) in terms of a comprehensive capture of production data.
Visualization of operating data
Freely definable time periods
Active CNC operating mode (Auto, MDA, JOG)
Function type (interlinked, single machine, setup)
Production status (cyclic production, waiting time)
Workpiece-specific production / non-productive time
Production output
Your benefits
Transparency in terms of output and productivity
Problem identification / analysis of causes in case of deviations
Available at any time, stationary and mobile
---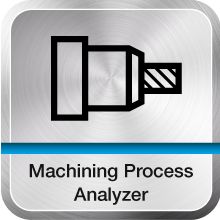 Machining Process Analyzer
The MPA application provides detailed information on the machining process in real time. Information on power, vibrations, temperature and tool is determined and recorded for specific workpieces. These parameters are available for a later process analysis and optimization. Information of power consumption and vibration level can also be used for tool and process monitoring.
Collision monitoring
Acceleration sensors installed closely to the tool or on the clamping device are utilized to stop any further axis movements in the event of collision immediately within 1 ms reaction time only. All relevant information for a later evaluation is saved in a report.
Process diagnosis / monitoring
Process-specific thresholds for vibrations and spindle drive power consumption can be defined. Based on this, related warning messages and other specific machine reactions e.g. immediate machine stop will be executed.
Your benefits
Discovery of potentials for productivity and costs
Workpiece-specific analysis of the machining situation
Identification and analysis of abnormal machining conditions
---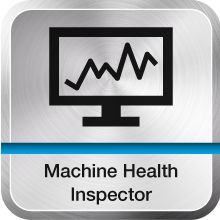 Machine Health Inspector
The MHI application informs the operator for imminent failures of wearing or dirty machine components. Therefore related measures for parts exchange, repair or maintenance could be initialized in an early stage and fitted into the production schedule.
The information is based on trend analyses of existing vibrations from the machine function components. These are recorded in new condition and saved as fingerprints. Further recordings are regularly stored in a database and trends of condition change can be visually analyzed at any time. If set thresholds exceed, the critical component can be determined in a more detailed analysis.
The user (optionally the ELHA service team) could also be informed quickly and precisely about required maintenance and service tasks. Warn and error messages are sent for example by e-mail and archived in the logbook.
Main features
Trend analyses with set thresholds for early, precise machine component failure detection
Detailed analysis function and follow up recommendation by ELHA service team
Multilevel output of upcoming maintenance and service tasks
Your benefits
Prevention of unplanned machine downtimes
Significant increase of machine availability
Optimization of maintenance tasks and spare parts management
Transparency for condition of machine components in case of irregularities
---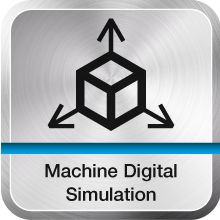 Machine Digital Simulation
The MDS application offers comprehensive and realistic process simulations in a virtual environment. The basis is a virtual machine, which is linked to the kinematic model of the real machine and other machine parameters. This allows the user to simulate the machining process via virtual NC control in a highly accurate accordance to the real process.
Main features
Digital machine twin
Realistic simulation of the machining process including cycle times
Consideration of real technological machine properties for the simulation
Your benefits
Highly precise machining process simulation
Early detection of required improvements and corrections for workpiece design and machining process technology
Identification of ratio potentials for specific machining processes
Collision avoidance in the early planning / programming phase
Ideal for process planning / manufacturing engineering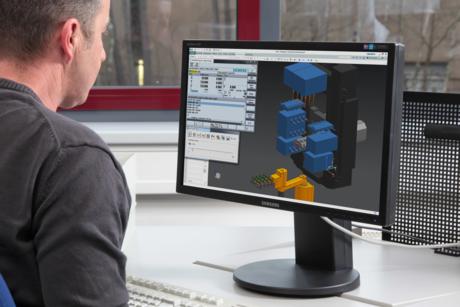 Virtual Machine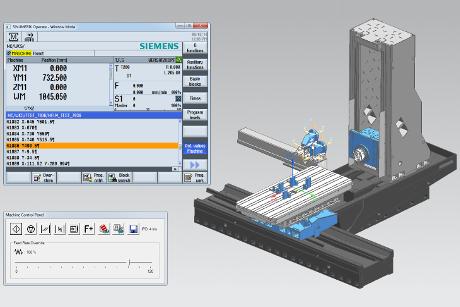 Virtual Siemens control
Movement simulation
Collision check
Process optimization
Real Machine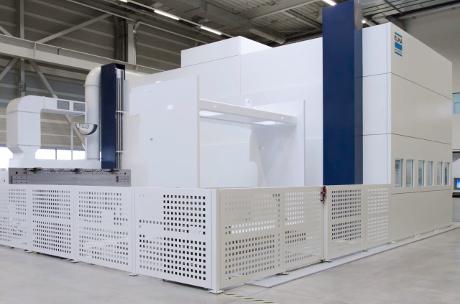 After simulation and testing in the virtual environment, the CNC program can be used directly.
Architecture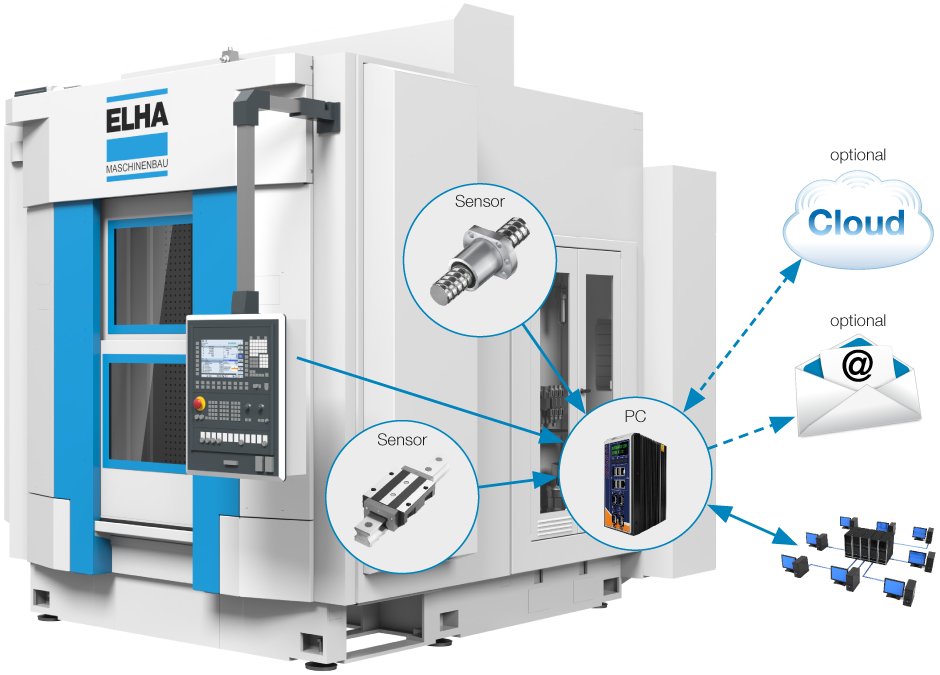 iDPS usually can be accessed over the local factory network. An industrial PC is used as an interface to the sensors and controller.
Cloud-Extension
Independently from cloud suppliers, ELHA provides an optional cloud function with global access to the most important information through specially designed browser dashboards (e.g. based on Bosch IoT Suite or SIEMENS Mindsphere).
---