Be more productive, be more efficient… and be better than the competition! And quality is a matter of course… these are the requirements of our customers. In the effort to master these challenges and in the course of many years experience for development and realization of metal cutting solutions we also created and launched various machining technology innovations. In many cases these innovations were the main reason for our customers to decide for an ELHA solution. Here you´ll find some of these innovations and ELHA key technologies which make the most important difference to other solutions.
Multi Spindle Technology
The attribute "highly productive" has been inseparably linked to the name ELHA for decades! In the early days of metal cutting as well as today, the use of multi-spindle machining for drilling, threading and milling operations in various configurations is an important key for achieving that goals! Whether it is the "one shot" drilling of of complex hole patterns or rather hundreds of drill holes in row layout or even the simultaneous multi-spindle machining of several workpieces. We have reliably implemented this technology in various machining concepts such as linear, transfer or rotary table machining centers. One of the latest innovations in this field is the spindle fine adjustment technology for multi-spindle heads, which allows a precise, manual 2-axis positions and angular adjustment of the spindle axis.
Flyer spindle fine adjustment
---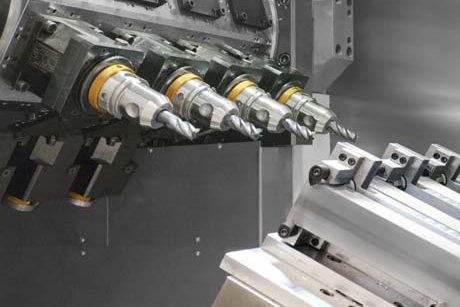 ELHA SRR – The Drum Type Turret
Productivity and flexibility are no longer mutually exclusive parameters. To achieve this goal also in the field of high-productivity transfer center technology in the ELHA production modules, we have developed the drum type turret. This allows not only powerful 2-4 spindle machining with directly driven tools, it also provides the required tool capacity and convenient tool exchangeability for a machining center and eliminates idle times for tool changing due to rapid turret indexing during the work operation.
Info drum type turret
---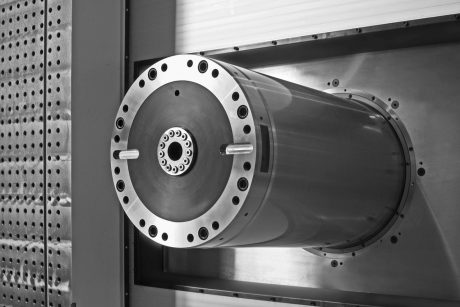 The h-Technology
In order to improve work process rigidity on the one hand and reduce vibration on the other hand, we decided to develop and utilize the patented h Technology for the FM production module. This technology stands for a large-sized, hydrostatically guided ram, which performs both the linear and the rotary movement of the workpiece carrier. In combination with a highly dynamic double ball screw drive in the longitudinal direction and torque drive for rotary movement, this technology performs a maximum of productivity and processing accuracy. Due to the advantages of the h technology, it also was applied to other special purpose machines, where maximum stability and accuracy were required. As an example it was utilized for another special MC made for high-performance machining of titanium aerospace components.
---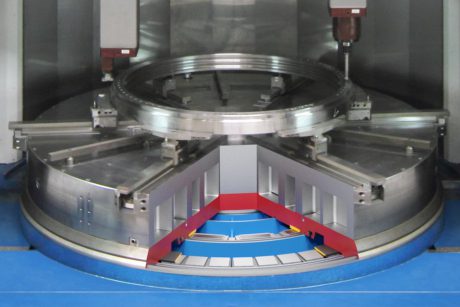 ELHA SDD – Segment Direct Drive
The non-contact linear motor technology for high dynamic cutting process in machining centers has proved for a long time ELHA has developed this technology further and implemented it in form of a patented rotary table drive for large scale rotary tables. As a result ELHA build the world's best turning and indexing tables in regards of positioning accuracy (±1″) and dynamic in the diameter range of 2-8 m. This makes the ELHA SDD the first choice for highly accurate and dynamic interpolation machining and for highly-productive indexing, for example for hole pattern drilling in large roller bearings and flanges.
Info Segment Direct Drive
---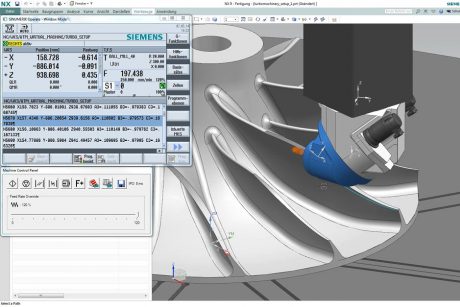 Virtual Machine
The ELHA virtual machine is a productive simulation tool, which connects all relevant machine parame- ters with the process data from customers CAD/ CAM system. Therefore it is possible to generate very precise process studies and simulations incl. 3D collision control. This solution helps to evaluate and improve machining processes and to reduce time for machine setup.