ELHA SDD – Segment Direct Drive
The table drive is the heart of the vertical multi-tasking machine and its performance in machining quality and dynamics directly influences the ultimate workpiece quality and economy of the machine. ELHA sets new standard with the patented SDD (Segment Direct Drive) table direct drive using the following features:
Extremely high control stiffness and positional accuracy of approx. ± 1"
High acceleration and positioning dynamics (VTM 402: 0 – 80 rpm in 6 sec with approx. 40 t moving mass)
Optimal machining quality without any influence of engaging gear frequencies
Broad power-, torque- and rpm spectrum with proven standard components based on linear drive technology
Optimal run-out because of elimination of radial drive forces and use of a radial hydrostatic bearing
Very low noise emission
No wear of drive components with minimal maintenance, continued use of the rotary table after failure of individual motor segments
Excellent thermo-symmetrical temperature control of the entire rotary table foundation with minimal deformation
ELHA SDD Table as a Retrofit-Set
Because of the modular character of the VTM the ELHA SDD rotary table can be used as a stand-alone unit, for example as part of a retrofit or maintenance of existing machines. This presents the possibility to use the extraordinary precision, dynamics and technology of this rotary table design in your existing machine park to achieve significant quality and productivity improvements.
Hydrostatic guides for all linear and rotary axes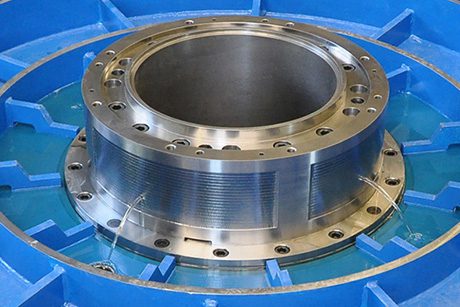 Rotary table radial bearing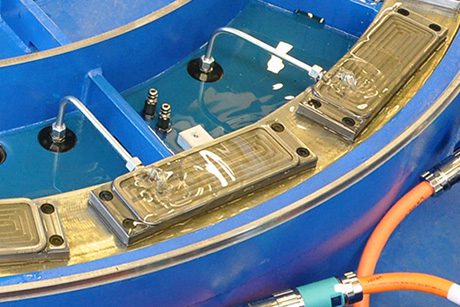 Rotary table axial bearing