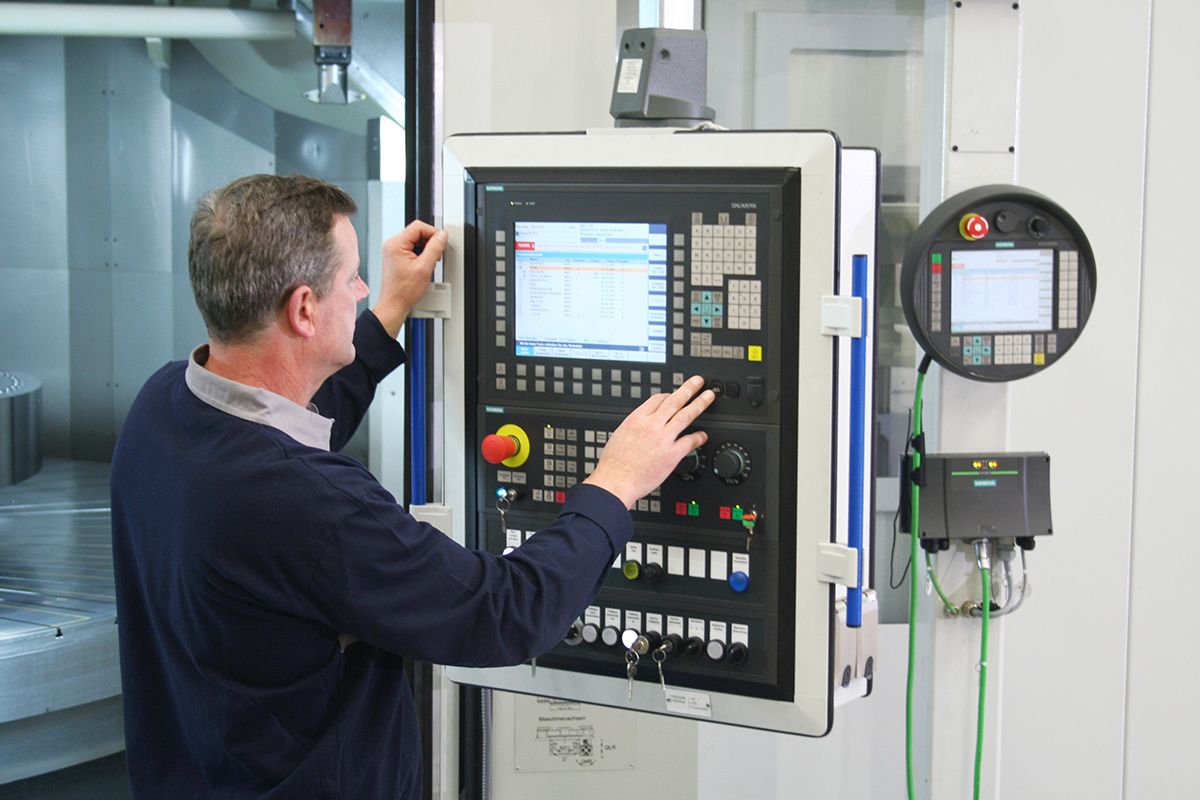 After Sales Service at ELHA-MASCHINENBAU: Your partner for efficiency and reliability
The world of manufacturing technology is moving forward at breathtaking speed. Time and again, companies are faced with the challenge of adapting their production facilities to changing requirements. But does that really mean you always have to invest in brand new machines? ELHA-Maschinenbau says: No! With our comprehensive after-sales service, we offer you the opportunity to bring your existing systems up to date through retrofitting, conversions and general overhauls. Discover how our services can optimise your production processes.
Product life vs. machine life
In today's world, the production landscape is constantly changing. However, the service life of modern machine tools often significantly exceeds the product life of manufacturing parts. This leads to companies being faced with the question of how to adapt their machines in order to remain competitive. This is where retrofitting, rebuilds and general overhauls come into play.
With over 100 successful machine retrofits and general overhauls, ELHA-Maschinenbau has the experience and know-how to help you meet these challenges. Our range of services extends from small machine extensions to modernisation and the complete conversion of entire production lines.
Our service overview
Our After Sales Service offers a wide range of services to optimise your equipment:
Consulting & Process Engineering: Our experts are available with their expertise to understand your needs and develop the best solutions for your specific requirements.
Complete or partial mechanical and/or electrical overhauls: We bring your machines up to the latest state of the art to increase their efficiency and reliability.
Recommissioning of rebuilt equipment incl. process: We support you in the smooth reintroduction of your equipment after rebuild.
Retrofit/retooling for new/different workpieces: Our solutions are flexible and can be adapted to changing product requirements.
Technical assistance throughout the project phase: We accompany you from planning to implementation to ensure that your goals are achieved.
Dedicated ELHA service
Our dedicated service team in the office and in the field specialises in providing optimum support for your production facilities. We understand that downtime is costly, so we offer the shortest response times to minimise it. Our services include:
International telephone support: Our hotline is available to you worldwide with specialist personnel.
Inspection, maintenance and repair: We take care of your equipment to prevent breakdowns.
Repairs by competent service technicians: Our technicians are highly qualified and quickly on site to solve problems.
Remote service: We can solve many problems remotely to minimise your downtime.
Customised maintenance / service agreements: We offer customised service agreements tailored to your needs.
Maintenance packages: Our packages offer an easy way to keep your equipment in top condition.
Fast and reliable response times: We are always there for you when you need us.
Strong cooperation partners: Thanks to our partnerships in the USA and Asia, we can offer global support.
ELHA original spare parts
Speed and precision are crucial when it comes to spare parts. With our service you get:
Fast response times: We understand how important it is to get your equipment up and running again quickly.
High spare parts availability: We keep a wide range of spare parts in stock.
Worldwide shipping: We ship spare parts worldwide to keep your equipment up and running wherever you are.
Consignment stock management: We offer solutions for efficient spare parts management.
Individual spare parts recommendations: Our experts help you select the right spare parts.
Spare parts packages: We offer packages with the frequently needed spare parts for your machines.
Used machines
To help you get the most out of your ELHA machines, we offer comprehensive training and education. Our training enables you to programme, run-in, operate and monitor your machines safely and efficiently. We also offer training on preventive maintenance of mechanical and electrical components.
Training and education
If you are looking for reliable used machines, we are also here for you. Through trade-ins and targeted buybacks of customer projects, we can offer you various used machines. These machines are overhauled and rebuilt according to your wishes to meet your requirements.
ELHA-Maschinenbau is your reliable partner for after sales service. We focus on quality, reliability and customer satisfaction. Contact us to learn more about our services and solutions for your production equipment. We look forward to helping you optimise your manufacturing processes and remain competitive.