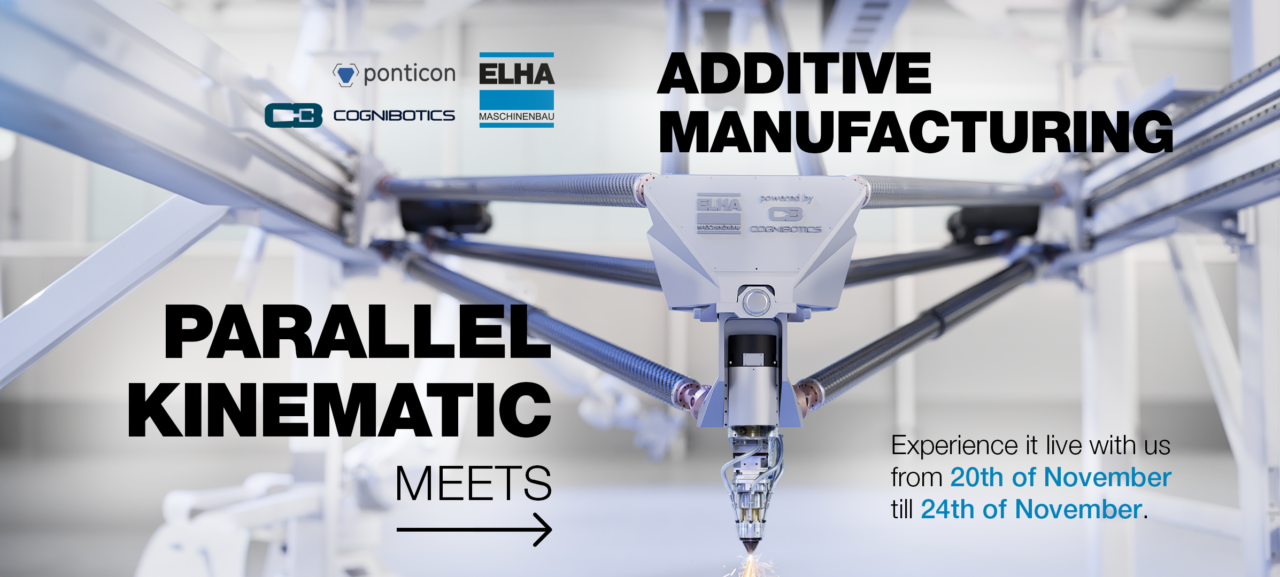 Parallel kinematics meets additive manufacturing
You are already familiar with our parallel kinematics module (PKM) – and if not, you can find out more about it here: More info. Today, however, we have exciting news that eclipses previous ideas about the PKM.
In close co-operation with Ponticon GmbH, we have not only further developed the PKM, but also given it a whole new dimension. From 20 November to 24 November 2023, our PKM will be taking part in a pioneering series of tests. The focus is no longer just on the familiar machining process, but also on exploring the possibilities of powder-based additive manufacturing for the first time.
This expansion opens up fascinating perspectives and opportunities that we do not want to withhold from you. We therefore cordially invite you to take part in this pioneering series of tests, which will take place in our facility 2.
A partnership for the future:
ELHA-Maschinenbau, Cognibotics and Ponticon
Together with Cognibotics, we have created a ground-breaking module that takes not only speed but also precision in additive manufacturing to a new level.
In this exciting week of testing, we will focus not only on the performance of the PKM, but also on the integration of the 3DMD process by our partner Ponticon GmbH. This dynamically growing company from Germany is bringing innovation to the world of additive manufacturing and successfully establishing the 3DMD process in industrial and academic environments.
Our mission: innovations "Made in Germany" for sustainable production
The test series will provide an insight into the highly dynamic kinematics of the PKM, which enables surface rates of up to 1,000 cm²/min and construction speeds of up to 600 cm³/h. The reproducible production of filigree 3D structures with a minimum wall thickness of 500 μm and a surface roughness of around 20 μm sets new standards in additive manufacturing.
The combination of different alloy systems and elementary metals with powder-based feeding enables a versatility that is unique in the industry.
Technical specifications that impress
Wide range of feed rates: up to 170 m/min for smooth surfaces, high accuracy and high productivity
Maximum acceleration: 2.5G for maximum powder efficiency
Up to 8 powder hoppers for material flexibility
Real-time control of spot size (typically 0.3 to 1.8 mm)
Installation space: 4,000 x 3,000 x 2,000 mm (expandable)
3- and 5-axis operation
Visit us and experience the future of additive manufacturing!
Would you like to experience first-hand how the PKM is pushing the boundaries of additive manufacturing? Then we cordially invite you to visit us at our Plant 2 and take part in our presentation. Discover the possibilities opened up by the unique combination of ELHA-Maschinenbau, Cognibotics and Ponticon GmbH.
With our innovations, we not only contribute to higher productivity and increased resource efficiency, but also to more flexibility for the production of tomorrow. Our customers' products benefit from improved application properties, and we are proud to be shaping the future of additive manufacturing with our developments.
To register, please contact info@elha.de with your contact details and a preferred date for your visit.
We look forward to your visit and to pushing the boundaries of what is possible together!