SMX 5224 – Horizontal 5-Axis Special Machining Center
This new 5-axis special horizontal machining center stands for a whole new generation of ultra-robust and high-performance machines with outstanding features for the machining of most heavy-duty materials like titanium, Inconel and other materials and alloys primarily used in the aerospace sector.
This machine also uses the hydrostatic guided Z-axis-ram already known from our large Production Module series FM 4+X hd. The excellent vibration-absorbing and stabilizing features of this axis as well as the high- performance milling drive with a 37 kW strong HSK-A 125 in combination with the base machine made of composite-material result in record setting metal cutting capacities, precision and finish qualities! Thanks to the 3000 mm long and 1000 mm wide swing rotary table with an integrated rotary table of 1000 mm a wide work piece range of chassis parts up to large structural components can be machined, not only for the aerospace sector.
Machine description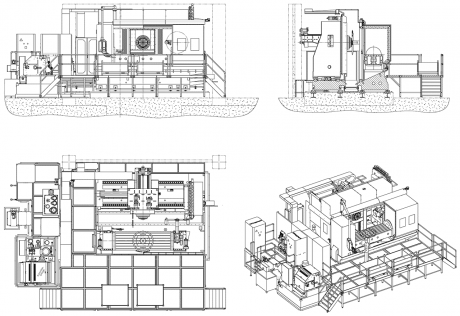 Technical Details
Traverse path
X-axis
2500 mm
Y-axis
1150 mm


Z-axis
1000 mm
Feed rates
max. speed X / Y / Z
30 / 30 / 48 m/min
max. acceleration X / Y / Z
1.3 / 3 / 4 m/sec²
max. feed force
20000 N
Main drive
max. capacity S1
37.7 kW
max. torque S1 (1 / 2)
1425 / 285 Nm
max. speed
4000 rpm
ram cross section
Ø450 mm
Bridge / Round table
bridge size
3000 x 1000 mm


bridge rotary table
800 mm
table diameter
1000 mm
Tool magazine
tool slots
60
tool holder
HSK-A 125
tool length / diameter
500 / ∅250 mm
Dimensions
space assignment
11.8 x 7.9 x 4.8 m
total weight
70000 kg