SMX 5181 – Horizontal Special Machining Center
This machining center was designed for the complete machining of flatbed laser components for the company TRUMPF. The machine assembly groups are optimized for a dynamic, highly precise and flexible machining of large elements. The one-part machine base and column made of composite material is constructed inherently rigid, with optimal vibration-reduction and heat-resistance.
The work unit with a newly designed fork-type milling head and high-capacity motor spindle is suitable for aluminum as well as steel cutting. The tool changing process is carried out by a robot (equipped with double-gripper). Up to 339 tool slots are available in the tool arena. The travelling CNC-rotary table is equipped with a zero-point clamping system for the holding of clamping pallets. An automatic pallet changer is designed for unmanned machining and is able to memorize/store up to 4 (5) pallets with raw parts in its system.
Machine description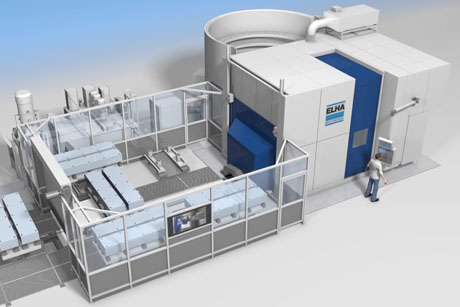 Technical Details
Traverse path
X-axis
2800 mm
Y-axis
1250 mm
Z-axis
2800 mm
Feed rates
max. speed
60 m/min
max. acceleration
5 m/sec²
max. feed force
10000 N
Rotary head
max. capacity S1
55 kW
max. torque S1
210 Nm
max. speed
15000 rpm
swivel range
0° – 90°
Rotary table
table size
1000 x 1000 mm
max. pallet size
1000 x 1600 mm
max. swing diameter
3000 mm
max. table load
10000 kg
positioning accuracy
±1″
Tool magazine
tool slots
339
tool holder
HSK-A 100
tool changing rate
7.0 sec
Dimensions
space assignment
17.4 x 9.1 x 5.9 m
total weight
65000 kg