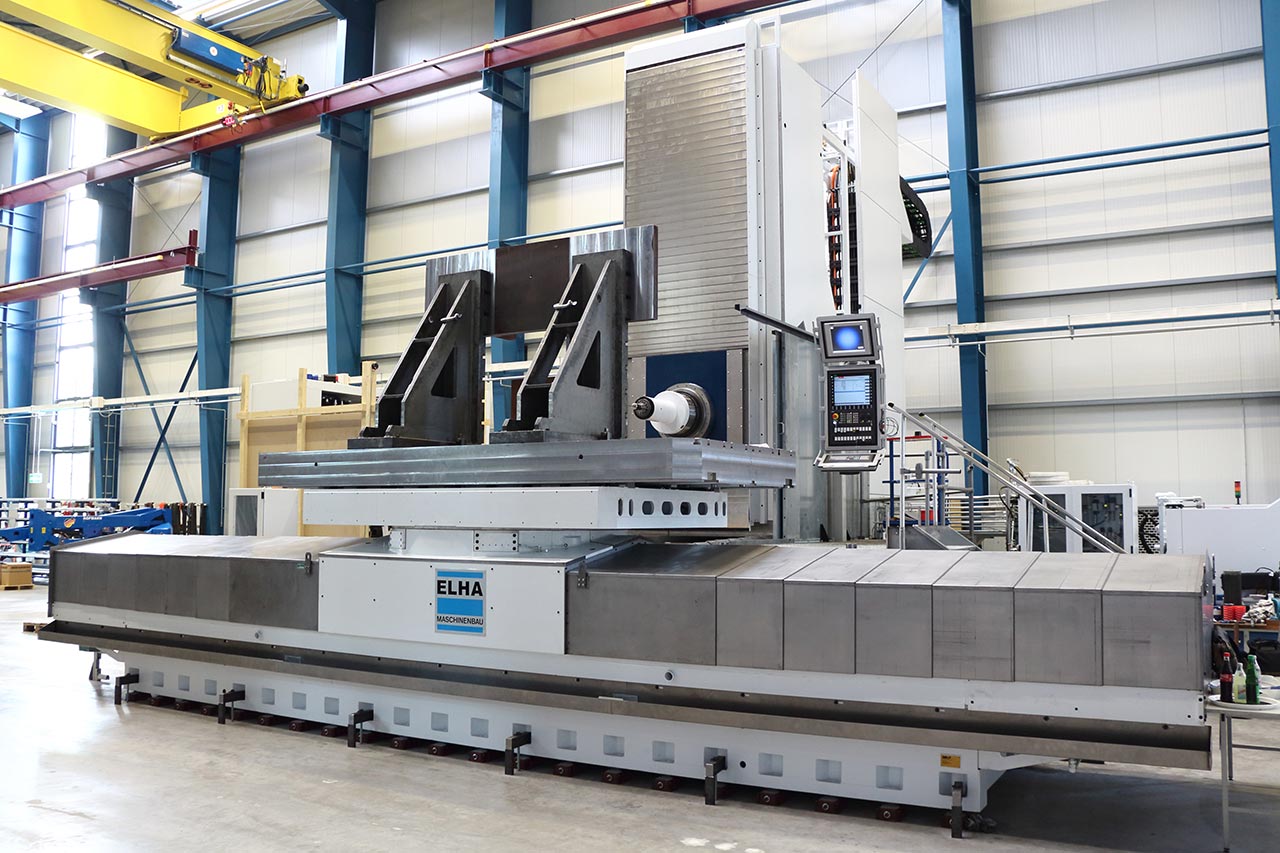 SMX 5239 – 6-Axis Horizontal Machining Center
This machine is a new milestone in the range of large scale horizontal machining centers in regards of dimensions, rigidity and flexibility. Conceptual the SMX 5239 was designed for cutting of frame parts for sheet metal machine tools. The machine base structure consists of a massive travel column for pre-positioning, which integrates another dynamic 2-axes unit for main work movements. The Z-axis movement is realized by a turnable, hydrostatic round ram, which is designed for adapting various interchangeable working heads for different operations.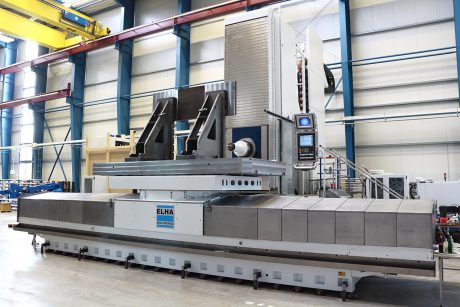 The tool spindle is integrated in the hydrostatic round ram and provides high speed and torque by a 2-step gear box. In front of the base machine, the X-axis saddle unit carries a large NC rotary table with Ø2000 mm, which is capable to clamp pallets with a size of 4500 x 2000 mm. Another highlight is the possibility for unmanned production by utilizing a pallet changing system for automatic change of 3 pallets in succession. For high flexibility as well as for shortest setup times a tool magazine with a large capacity of 360 tools automatically changes the tools into spindle by robot.
Machine description
Technical Details
Travel path
X-axis (rotary table)
5600 mm
Y-axis (cross slide)
3500 mm
Z-axis (ram)
1000 mm
W-axis (column)
2650 mm
palette changer
1250 mm
head changer
2300 mm
positioning accuracy
0.02 / 4500 mm
Main drive
max. capacity S1
37.7 kW
max. torque S1 / S6 (gear 1)
1500 / 1920 Nm
max. torque S1 / S6 (gear 2)
300 / 384 Nm
max. speed (gear 1 / 2)
1300 / 6500 rpm
Rotary table / Palette
table diameter
2000 mm
palette size
4500 x 2000 mm
workpiece weight
18 t
palette changer
3
Head changer / Tool changer
interchangeable heads
3
tool places
360
tool holder
HSK-A 100
Dimensions
space assignment
18.5 x 11.8 x 5.6 m
total weight
180 t