SPX 5111 – Horizontal 2-Spindle Turn-Mill Machining Center
This machine is specially designed for the machining of print cylinders (max. Ø 800 mm; max. 2000 mm long). Machining comprises turn-milling of the lateral area, channel-milling and drilling. The outstanding features of the machine are high precision, high thermal stability and excellent damping characteristics.
The heavy HSK 160-main-spindle-unit (150 kW) is mainly used for turn-milling and channel-milling. This unit is equipped with a 14-slot disc-magazine. The dynamic HSK 100-ram unit (50 kW) is mainly used for drilling. This unit is equipped with a 40-slot oval-magazine. Each tool change is carried out by means of a twin-gripper.
The centering- and clamping units (X1- and X2-axes) are travelling separately during load- and unload- operation. During machining, the X-axes are electronically coupled. The rotary axes (A1 and A2) are driven both-sided and are also electronically coupled.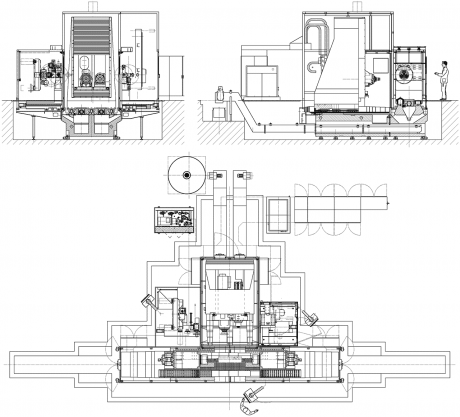 Technical Datails
Traverse path
X1 / X2-axis
2710 / 2670 mm
Y-axis
800 mm
Z1 / Z2-axis
1050 / 500 mm
U1 / U2-axis (tool change)
1150 / 900 mm
Feed rates
max. speed (Z2)
30 (40) m/min
max. acceleration (Z2)
2,5 (6) m/sec²
max. feed force (Z2)
20 (12) kN
Main drive 1
max. power S1
150 kW
nominal torque 1 / 2
6000 / 2295 Nm
max. speed
1600 rpm
Main drive 2
max. power S1
50 kW
nominal torque
300 Nm
max. speed
7260 rpm
Rotary axes
max. torque
9000 Nm
max. speed
20 rpm
clamping range
52-220 mm
max. workpiece weight
1500 kg
Dimensions
space assignment
12.1 x 10.3 x 6.2 m
total weight
130000 kg
Machine description