SPX 5134 – Rail Drilling Machining Center
This machine is suitable for drilling and both-sided chamfering of rail profiles in various shapes and dimensions. The drill-machining is carried out with a ± 15° pivoting 2-axis-unit. This unit is equipped with an additional 6-ply tool changer. The rear-side chamfering of the bore holes is carried out with a non-pivoting 2-axis unit on the opposite side.
To achieve a constant both-sided chamfering despite large tolerances at the work piece, the machine was equipped with patented software. This program enables chamfering with a tolerance of ± 0,3 mm.
The feeder-magazine next to the machine holds up to 10 rails. The belt conveyor transports raw-part rails up to a length of 15 m into the machine. To be able to position the rail exactly the machine is equipped with a CNC-controlled rail positioning device. After processing the finished rails are picked-up by a feeder-magazine.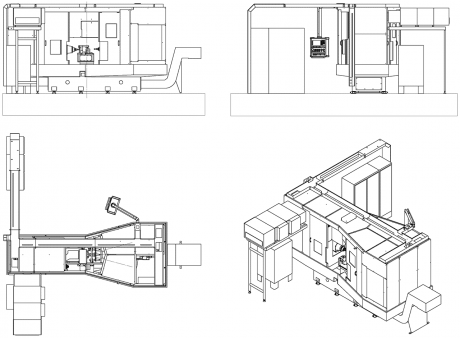 Technical Details
Traverse path
Y-axes
100 mm
Z-axes
320 mm
rail transport
18000 mm
tool magazine
450 mm
pivoting range
±15°
Feed rates
max. speed
30 m/min
rail transport
10 m/min
Main drive
max. capacity S1 / S6
20 / 25 kW
max. speed
4000 rpm
tool holder
SK 50
Tool magazine
tool slots
6
max. tool length
230 mm
max. tool diameter
60 mm
Parts magazine
rail length
1000-15000 mm
contact face length
2500 mm
conveying velocity
6 m/min
Dimensions
space assignment
37.2 x 6.7 x 3.0 m
total weight
37500 kg
Machine description