SPX 5207 – 6-Spindle Deep-Hole Drill Machining Center
The machine is suitable for 6-spindle horizontal deep hole drilling of holes lying on bolt hole circles. The motor spindle working units are arranged at 6x 60° on a base plate and can be adjusted CNC-controlled to the required diameter.
The 3-jaw power chuck Ø1,250 is mounted on a movable rotary table unit. This ensures optimum accessibility for loading and unloading. The one-piece machine base was made of composite material and is optimally vibration-damping.
The holes with diameter 6-16 mm are completed in one working stroke. For spot drilling, the working units are equipped with hydraulically adjustable drill guide devices.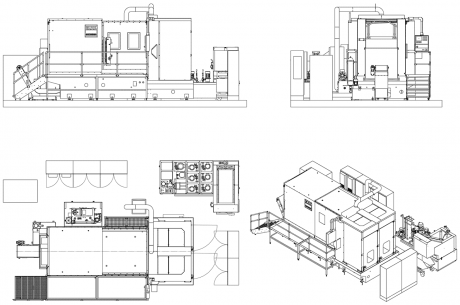 Technical Details
Traverse path
X-axis (1-6)
530 mm
Z-axis
1400 mm
drill ingot
470 mm
Feed rates
max. speed
20 m/min
max. acceleration X / Z
4 / 1.4 m/sec²
max. feed force Z
60000 N
Main drive
max. capacity S1 / S6
13 / 16.9 kW
max. torque S1 / S6
49.7 / 64.6 Nm
max. speed
8000 rpm
tool holder
HSK 63 mm
Rotary table
diameter
1250 mm
max. speed
5 rpm
Work piece
outer diameter
780 – 1500 mm
section diameter
510 – 1450 mm
max. weight
1500 kg
Dimensions
space assignment
10.4 x 6.2 x 4.3 m
total weight
62000 kg
Machine description