SPX 5207 – 6-Spindle Deep-Hole Drill Machining Center
This special purpose machine was designed and built for multi-spindle drilling of dies for the production of pellet products. The rotatory work pieces are picked up by a clamping chuck and clamped.
The drilling tools are fitted on star-shaped arranged tool tray allowing radial, NC-controlled moves according to the pitch circle diameter of the die bore holes during machining. The axial drill feed movement as well as the indexing of the bore hole positions is carried out by the tool tray.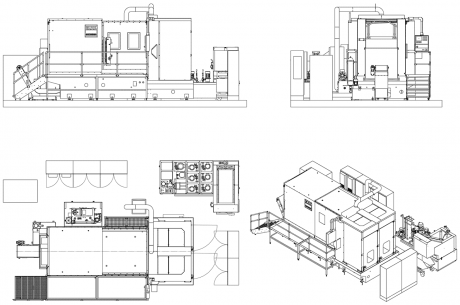 Technical Details
Traverse path
X-axis (1-6)
530 mm
Z-axis
1400 mm
drill ingot
470 mm
Feed rates
max. speed
20 m/min
max. acceleration X / Z
4 / 1.4 m/sec²
max. feed force Z
60000 N
Main drive
max. capacity S1 / S6
13 / 16.9 kW
max. torque S1 / S6
49.7 / 64.6 Nm
max. speed
8000 rpm
tool holder
HSK 63 mm
Rotary table
diameter
1250 mm
max. speed
5 rpm
Work piece
outer diameter
780 - 1500 mm
section diameter
510 - 1450 mm
max. weight
1500 kg
Dimensions
space assignment
10.4 x 6.2 x 4.3 m
total weight
62000 kg