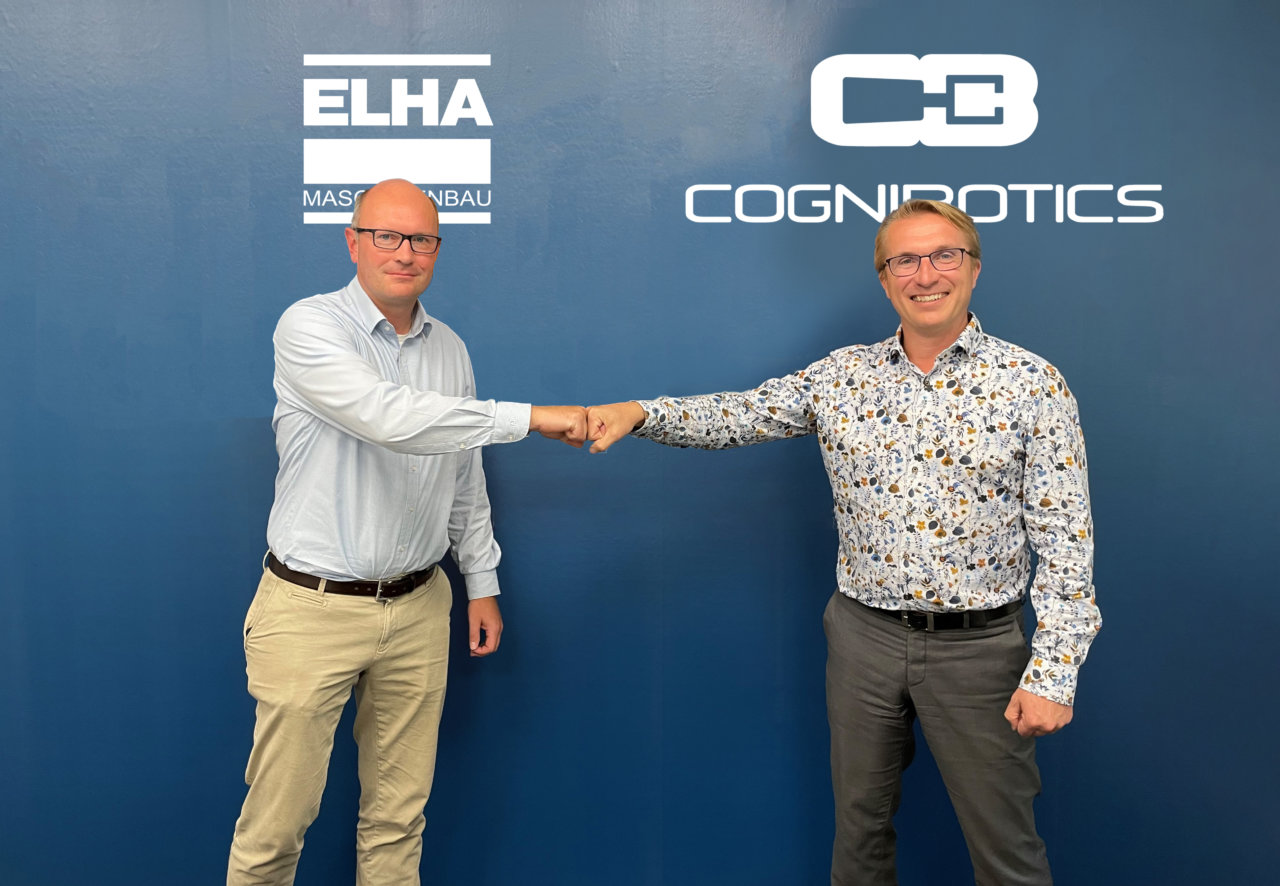 Innovative Partnership with Cognibotics
Tomorrow's Robotics Today
For more than 90 years, ELHA-MASCHINENBAU Liemke KG is known for customized machine tools, special purpose machines and production modules. During this time, highly productive process solutions have been successfully delivered for both national and international customers in various industries.

However, our customers' products and manufacturing processes are constantly changing. Therefore, we are pleased to announce a new strategic partnership with the Swedish company Cognibotics. Cognibotics specializes in developing innovative robots with record-breaking reach, speed and precision. Together, we combine expertise from both fields and work on a joint process solution for tomorrow's manufacturing environment. In doing so, we break away from conventional trends in the machining industry.

Mr. Fredrik Malmgren, CEO at Cognibotics, said:

"We, at Cognibotics, are proud to engage in such a relationship with ELHA. We believe that is a perfect fit for our existing and new customers who need to increase their profitability in the rapidly changing and challenging manufacturing environment. Our joint solutions will solve challenges, between others, for Electrical Vehicle manufacturing as the best solution on the market to process large castings and weldments with the shortest cycle times and maximum integration flexibility."

This partnership will combine Cognibotics business expertise as an international provider of market-leading robot accuracy solutions, with ELHA's large expertise in providing CNC- machinery and automation solutions, as well as application know-how. Through this partnership both companies will jointly develop high-precision CNC robotic applications for the manufacturing industry.

Mr. Christof Liemke, CTO at ELHA, quoted:

"As workpieces and manufacturing processes evolve, solutions for such new demands have to be rethought. Not only innovative machine structures need to be developed and evaluated but also the benefits of modern control systems and algorithms to drive or optimize them. With Cognibotics we, at ELHA found a strong partner who already has profound knowledge in this field, a team of specialists and access to scientific research capacities."

As Cognibotics and ELHA continue to grow and expand their business, we want to offer more business value to our customers. To that extent, it became apparent that Cognibotics, together with ELHA, are a perfect fit, both companies are very technology driven and have a full commitment to design and provide innovative solutions, through intensive technology research and system enhancements beyond the trend of the machining industry.