SPX 5176 – 2-Spindle Horizontal Machining Center
This machine was mainly designed for multi-spindle machining, horizontal drill- and milling of heavy cylinders. In order to allow the machining of other work pieces, the first unit was designed as dynamic box-in-box unit. This box-in-box unit features an increasing X-traverse path and a higher-capacity work spindle.
The three-part machine frame of the box-in-box unit and the two-part machine base were made of a vibration-reducing composite-material construction. The 2500 mm large CNC-rotary table was designed for extra heavy work pieces with a weight up to max. 45 tons. With this rotary table any angle with an accuracy of ± 3 angular seconds can be positioned.
The use of manually adjustable, automatic exchangeable two-spindle drill heads in both units allows a considerable reduction of machining time. Two automatic tool magazines are additionally able to hold further drill- and milling tools.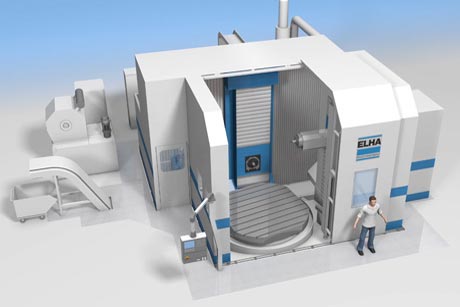 Technical Details
Traverse path
X1 / X2-axis
2500 / 200 mm
Y1 / Y2-axis
1800 mm
Z1 / Z2-axis
1000 mm
Feed rates
max. speed
30 m/min
Main drive 1
max. capacity S1 / S6
28 / 42 kW
max. torque
534 / 2136 Nm
max. speed
3000 rpm
Main drive 2
max. capacity S1 / S6
33 / 45 kW
max. torque S1 / S6
157 / 215 Nm
max. speed
10000 rpm
Rotary table
diameter
2500 mm
max. speed
6 rpm
Tool magazine
tool slots
3 + Head
tool holder
HSK-A 100
Dimensions
space assignment
11.7 x 9.3 x 6.0 m
total weight
166000 kg
Machine description