Exceptional "engineering art" for a good cause
In Hövelhof, a special painting is being created that will bring joy to children in Lippstadt.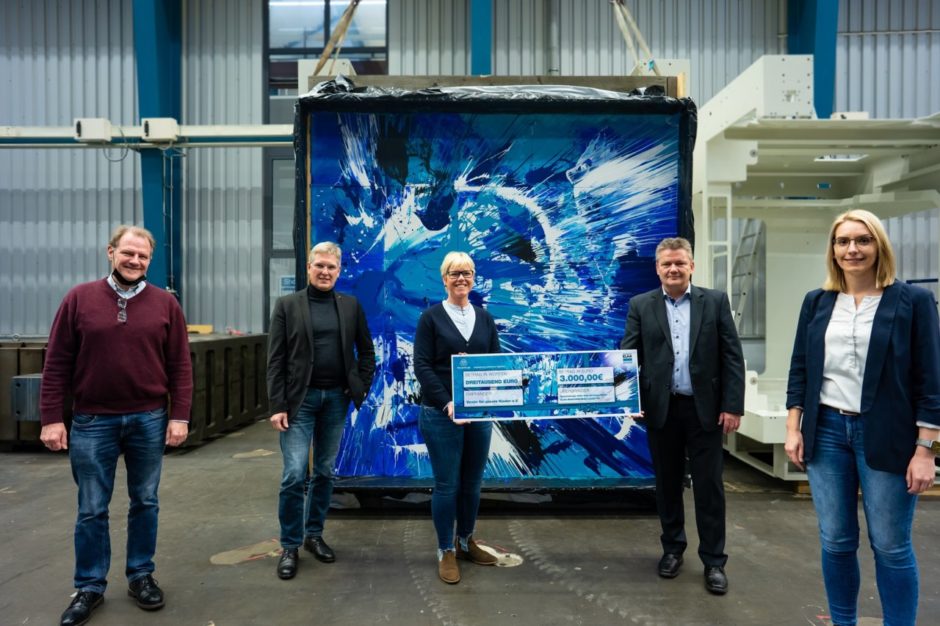 ELHA-MASCHINENBAU Liemke KG has been known for exceptional machines for generations. Now, with a special idea, things were really "round" in the truest sense of the word. On a gigantic rotary table machine with a diameter of five meters, a huge spin art painting (2.5×2.5m) was created.
"Normally, our customers manufacture large-diameter bearings for wind turbines, among other things, on such a special machine," says Carina Becker. Mr. Stakemeier from thyssenkrupp rothe erde, market leader in slewing bearing production from Lippstadt, was all the more surprised when he heard about this artistic action, because he knew this kind of art from his childhood days, but on a much smaller scale.
25 canvases were stretched on the round table in a holder made especially for this purpose and covered with acrylic paint. The rotary table then circulated, creating a unique gradient. The special picture now receives a place in the new building of the company thyssenkrupp rothe erde, not far from the rotary table machine from Hövelhof used for the production.
The proceeds, worth €3,000, were handed over by Mr. Stakemeier to Ms. Jungeblodt and Mr. Bohnhorst from the Lippstadt-based Verein für unsere Kinder e.V. on December 15, 2021 in Hövelhof. This is to be used to finance new playground equipment at Victoria Park in Lippstadt, because the local playground currently offers only very limited possibilities, especially for the youngest children, reported parents.
Sales Manager Meinolf Wolke had the idea for the painting when he made a similar picture at home with his son using acrylic paint, a small canvas and a conventional cordless screwdriver: "Art comes from skill, and on a huge machine we could create a huge picture. This would create a connection between the hard, cold, mechanical engineering and homely art."